About a month ago, I switched from Telefonica to Vodafone because the former was starting to get expensive, 75 € / month for a 10 mbit/s link, and their uplink was only 300 kbit/s which is really annoying as I also upload stuff to my servers from time to time.
Anyway, so Vodafone sent me the following piece of hardware.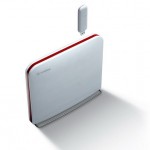 It's an Huawei EchoLife HG553
At first, vodafone offer you to connect through their 3G network for free until the ADSL link is working. So far so good. Once the ADSL link was up, I switched to that.
But I experienced frequent problems with DNS queries, that is, from time to time I would get the famous "host not found" error, and from all my computers. I first thought that there was a problem with Vodafone's DNSes so I changed them in my computers, but it didn't work any better.
Strange! At the end I started to suspect that Vodafone might be filtering DNS requests on their network but I didn't see why, as hosts like 'mail.google.com' or 'mail.live.com' failed all the time.
I called their (useless) hotline. They made me change the DNSes on my local machine, without results of course, then changed the DNSes in my router and rebooted it. Hum.. So they're accessing the router eh? 'mail.google.com' resolved once after that.. Then it failed again. They seemed clueless about the problem. They also said something that got my attention: "when I'm pinging mail.google.com from your router, it works fine".
All right.. How are they accessing the router? And most importantly how can they ping from it as the default web interface doesn't allow you to do so.
I remembered I was once able to access the router through SSH using admin/admin. So I did that and to my surprise, it didn't work! So they must have been tampering with my router since I got online?
So, after hacking around, this is how to solve the problem.
First, you need to reset your router to default settings. Turn it off, insert a pen into the 'reset' hole, turn it on, wait 10 seconds, turn it off, remove the pen.
Disconnect the ADSL link, you don't want your modem to reconfigure itself and remove the admin account again. I'll shortly explain how they do that.
Turn on the modem. Its IP is 192.168.0.1, the admin account's login is 'admin' and its password is 'admin'.
Go to the web interface using admin/admin then reconfigure what you need to. You'll see that you have much more options available than with the vodafone/vodafone login. Don't touch the ADSL stuff, it is preconfigured properly.
Here's a list of a few stuff you might want to do:
Advanced Setup/NAT: Enable UPnP. This is useful for Peer 2 Peer applications or stuff like MSN Messenger, Skype, VOIP or file transfert in chat programs
Advanced Setup/DNS/Dynamic DNS. If you want to use services like dyndns.org to have your router available anywhere
Important: if you don't want vodafone to reconfigure your router and remove your admin access as soon as you go online, go to Management/SNMP Agent and Disable it
Management/Access Control: Here you can disable vodafone's ability to access your router from the WAN interface. Just turn off everything except ICMP on the WAN side, and enable everything for you on the LAN side
Management/User Management: Change the password of your admin account. support is used by vodafone and the password is 'support' as well. Their access only works for telnet and ssh, not the web interface
Now do a SSH to the modem (with the admin account). If you need an SSH client for Windows, I can recommend PenguiNet.
Type the following:
iptables -t nat -D PREROUTING_IN 1
And that's it! The DNS screw up is gone. Now make sure you configure your computers to use some other DNS than your routers because it is bugged and doesn't work properly. You can use the vodafone DNSes:
89.6.239.4 212.145.4.98
You can now plug your phone line into the router's ADSL port. If you disabled the SNMP services, the router won't be reconfigured and rebooted by vodafone.
There's still a caveheat, though. You'll have to type the iptables command everytime you reboot your router. I'm trying to find a way to change it permanently.
I wonder if the vodafone support people realize how silly it is to tell users to change their DNSes when the router will intercept the queries anyway… Oh well.. Big corporations…